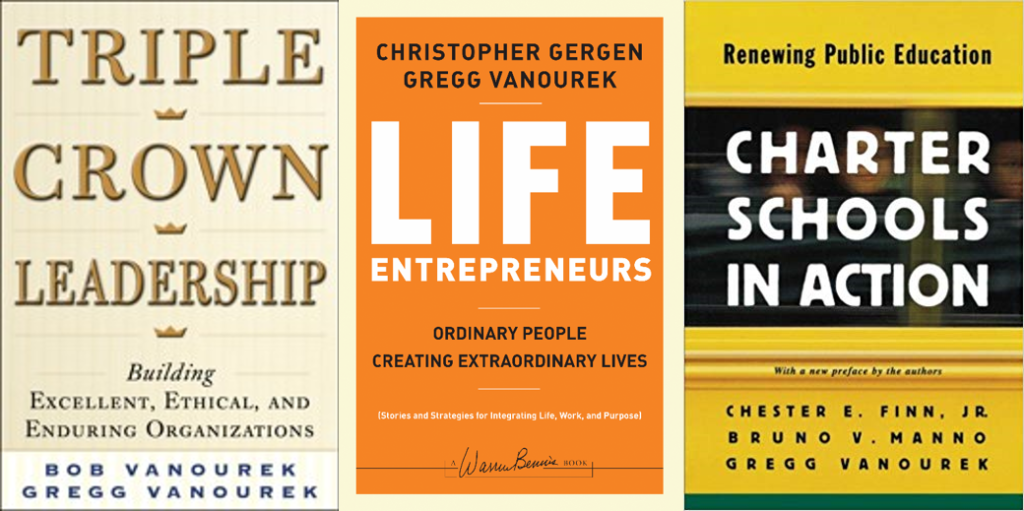 Gregg Vanourek is co-author of three influential books, and his writing has appeared in or been reviewed by Fast Company, BusinessWeek, New York Times, Entrepreneur, Inc., Harvard Business blogs, and more. Gregg's books:
LIFE Entrepreneurs is a clarion call for integrating our life and work with purpose and passion. It tells the stories of people who have reinvented themselves and infused their life and work with passion and fulfillment. LEARN MORE​
Triple Crown Leadership champions a better brand of leadership that builds excellent, ethical, and enduring organizations–ones that achieve exceptional positive impacts for their stakeholders, ethically, and sustainably. This book was a winner of the International Book Awards. LEARN MORE
Charter Schools in Action outlines a bold vision for how to renew public education with the needs of children, families, and educators in mind. LEARN MORE
To get Gregg's manifesto on how to avoid the Common Traps of Living and free book chapters from Gregg's books, check out his Free Guide.