With the way we're living in the world today, many of us struggle with stress, anxiety, and other harmful mental states. Many people struggle with worrying, overthinking, or ruminating. Some struggle with "monkey mind," with thoughts swinging wildly in different directions. In some cases, we're too frazzled to have a rich inner life, and our hearts are heavy with the burdens of the day and concerns of the world.
Enter meditation.
With meditation, we can train our minds to become more present, focused, and still. We can train our attention and awareness, helping us feel calm and clear. Meditation is a means of quieting and focusing our mind.
Though we can stop there if we wish, focusing only on the psychological benefits, we'd be missing a big part of the point—and the other potential benefits. As a time-honored practice in several religious traditions, with roots in the teachings of Hinduism, Buddhism, and other religions, meditation is a contemplative practice intended to help us achieve greater spiritual insight. It can awaken our compassion and help us feel more connected to others, potentially including all beings, God, and the universe. And for some, it can lead to a more mindful and enlightened state of awareness and existence.
That leads us to the deeper territory of mindfulness. So, what is mindfulness, and how does it relate to meditation?
Mindfulness
According to Jason Marsh of the Greater Good Science Center, "Mindfulness describes a moment-to-moment awareness of your thoughts, feelings, and bodily sensations. It's a state of being attuned to what's going on in your body and in the surrounding environment—being in the present moment without thinking about the future or what happened in the past." Quite simply, we can think of it in terms of just three words:
"Be here now."
-Ram Dass, psychologist and spiritual teacher
When we're mindful, we're fully aware of the present moment while calmly noticing and accepting our thoughts and feelings without getting caught up in or judging them. Mindfulness is both a state and a practice. When we're practicing it, we deliberately refocus our attention on experiencing the present moment, or what spiritual teacher Eckart Tolle calls "the now."
Mindfulness has seen a surge of interest in recent years—from mindfulness in the workplace (including at companies including Aetna, Alphabet, BlackRock, Facebook, Ford, General Mills, Meta, Pixar, and more) and mindful eating to the rapid spread of mindfulness-based stress reduction programs at medical schools, hospitals, and other institutions around the world.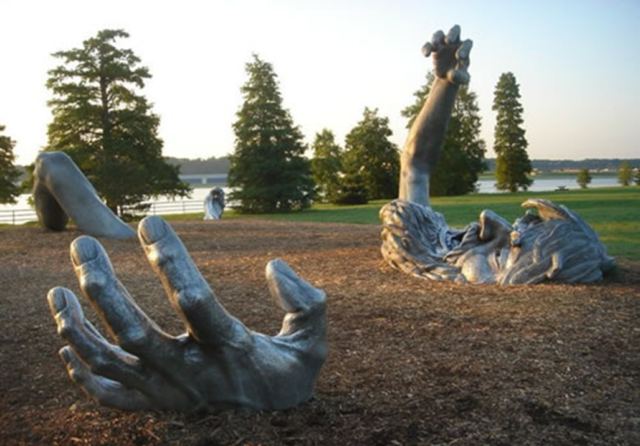 Take the Traps Test
We all fall into traps in life. Sometimes we're not even aware of it, and we can't get out of traps we don't know we're in. Evaluate yourself with our Traps Test.
The Link between Meditation and Mindfulness
Though some people use the terms "meditation" and "mindfulness" interchangeably, that's a mistake. They're related but not the same.
Meditation is a practice that can lead to a state of mindfulness, and mindfulness meditation is one of several forms of meditation. (See below for examples of different types of meditation.)
The Benefits of Meditation
University of Wisconsin neuroscientist Richard Davidson has conducted experiments on the effects of meditation on the brain. His results suggest that meditation may lead to changes in the physical structure of the brain regions associated with attention, fear, anger, compassion, anxiety, and depression. According to Jason Marsh of the Greater Good Science Center, brain imaging studies reveal that a half-hour of daily mindfulness meditation can increase the density of gray matter in the parts of the brains associated with memory and empathy.
According to researchers, meditation has many beneficial physical effects, including potential improvements in:
blood pressure
metabolism
immune response
longevity
alleviation of pain (including chronic pain)
Researchers also point to many mental and emotional benefits. For example, meditation, when done well over time, can:
improve brain activity and cognitive function (including mitigation of cognitive decline)
enhance attention, focus, and concentration
improve our mood and increase positive emotions that help provide resilience against negative emotions
help us cultivate self-awareness
promote empathy and compassion
decrease our anxiety and emotional reactivity
help us manage and reduce worrying and rumination
help improve performance on specific tasks (e.g., ones that require attention and accuracy)
help us manage our cravings (e.g., if we struggle with alcohol or overeating)
help us overcome burnout
help reduce symptoms of depression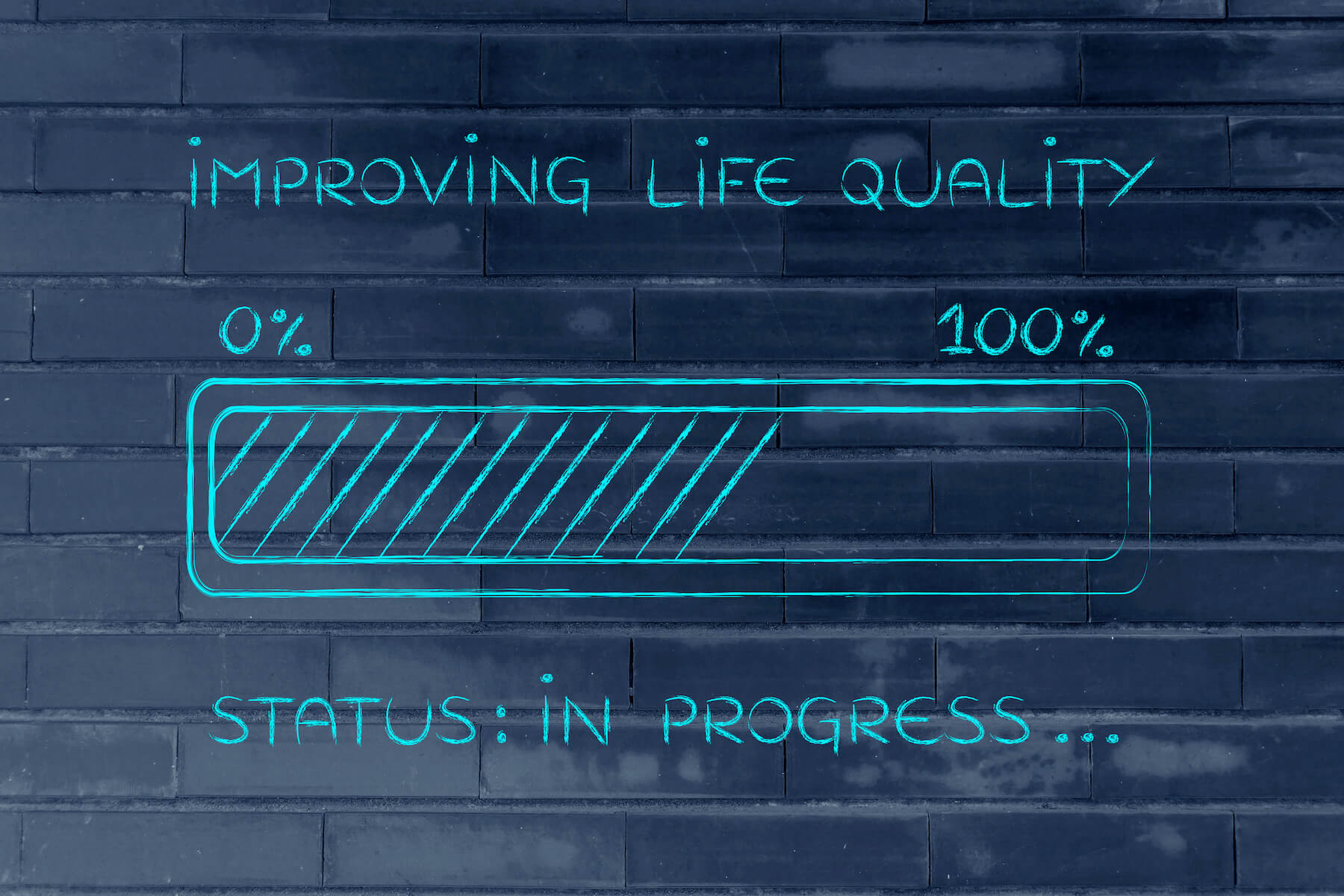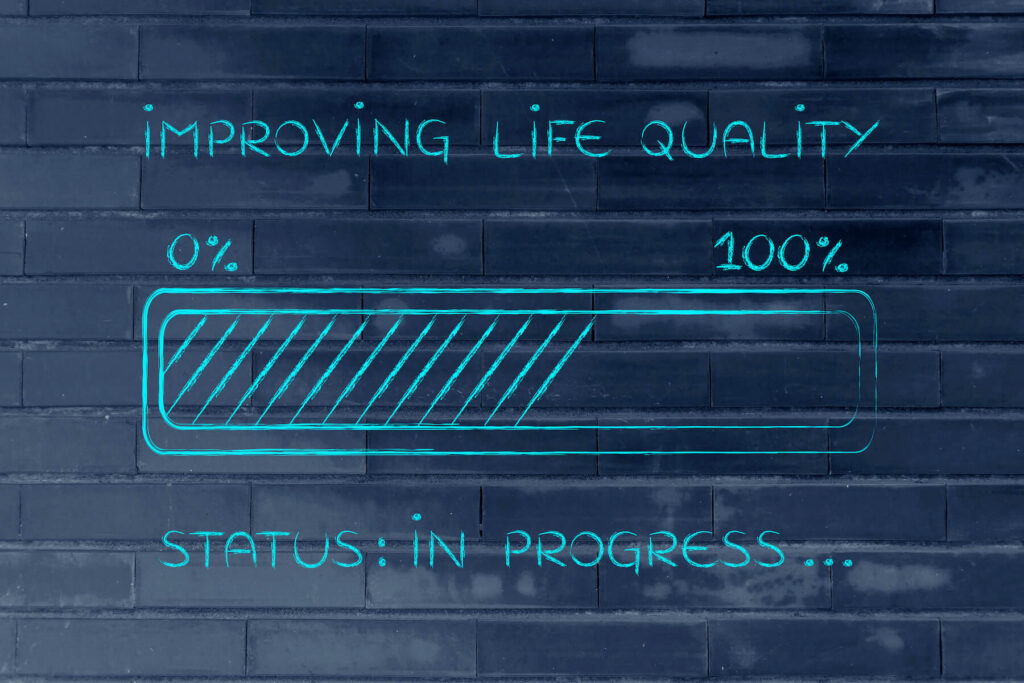 Quality of Life Assessment
Evaluate your quality of life in ten key areas by taking our assessment. Discover your strongest areas, and the areas that need work, then act accordingly.
Different Types of Meditation
With its long history through the ages and its practice in different parts of the world, it's not surprising that there are many different ways to practice meditation. Here are several different types of meditation:
Mindfulness meditation. We observe our thoughts nonjudgmentally without reacting to them, acknowledge them, and then let them go. It can also include deep breathing and bringing our attention to our mind and body. Many people consider focused attention meditation and open monitoring meditation as branches of mindfulness meditation.
Body scan meditation. We direct our attention to sensations happening in our body. We can mentally scan over different regions of our body, from head to toe.
Loving kindness meditation (also known as metta meditation). We silently repeat in our mind phrases of benevolence or good wishes directed at ourselves and people we love—and perhaps other people we don't know or even rivals, animals, and/or the world or universe.
Transcendental meditation. We use a silent mantra repeated in our mind for a certain period of time or turn our attention within and end up with simple being, perhaps leading to what's called "pure awareness" or "transcendental being."
Death meditation (maranasati). We meditate on the fact that death can strike at any time. The idea is that being mindful of death can help us live well. According to the Buddha, "of all mindfulness meditation, that on death is supreme."
Mindfulness Practices
Beyond meditation itself, there are also other things we can do to help make us more mindful. Here are several:
Deep breathing practices. During deep breathing practices (also included in many different types of meditation), we can place our attention on our breath (e.g., we can focus on the top of our head when we breathe in and our diaphragm when we breathe out). This can include exercises like box breathing, in which we breathe in while slowly counting to four, hold our breath for four seconds, slowly exhale for four seconds, and then hold our breath again. (Each of these four steps forms one side of an imaginary box.)
"Being aware of your breath forces you into the present moment—the key to all inner transformation."
-Eckhart Tolle, A New Earth
Engage in everyday activities mindfully. When we're doing something—anything—we can place our attention on what we're doing and only that. For example, we can focus on the taste, texture, and smell of the food we're eating, or on the sensations and smells of the dishes we're washing.
Reduce distractions. It seems like the modern world is designed to agitate our monkey mind with a barrage of inputs and distractions. Put our smartphones away (out of sight) and turn off notifications. The goal here is breaking our addiction to numbing and distraction so we can be more mindful about what we're doing and experiencing.
Play the "game of fives." Notice five things in our immediate vicinity that we see, hear, or smell. Then, fully experience them. It may help to imagine that it's the first time we've ever experienced that thing. When we do this, all our attention moves to what we're noticing in the now. (1)
Find sanctuary. Find or create places or practices of peace that reconnect us with our heart—and build them into the flow of our lives. (See our article, "Renewing Yourself Amidst the Chaos.")
Engage in prayer, worship, or spiritual contemplation. By doing so, we can rise above the immediate concerns of our busy days and tap into something larger than ourselves with reverence, gratitude, awe, and wonder.
Tools for You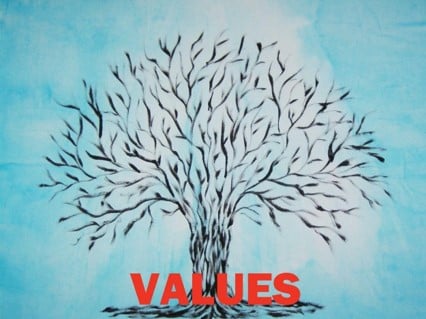 Personal Values Exercise
Complete this exercise to identify your personal values. It will help you develop self-awareness, including clarity about what's most important to you in life and work, and serve as a safe harbor for you to return to when things are tough.
Related Articles
Resources
Greater Good Science Center's guide to mindfulness practices
Thich Nhat Hanh, The Miracle of Mindfulness: An Introduction to the Practice of Meditation
Jon Kabat-Zinn, Full Catastrophe Living: Using the Wisdom of Your Body and Mind to Face Stress, Pain, and Illness
Ellen Langer, Mindfulness
Eckhart Tolle, The Power of Now: A Guide to Spiritual Enlightenment
Calm app
Postscript: Inspirations on Meditation and Mindfulness
"Our life is what our thoughts make it." -Marcus Aurelius, Meditations
"The mind is its own place, and in itself can make a heaven of hell, a hell of heaven." -John Milton, Paradise Lost
"By the practice of meditation, you will find that you are carrying within your heart a portable paradise." -Paramahansa Yogananda, Indian Hindu monk, yogi, and guru
"Learn to watch your drama unfold while at the same time knowing you are more than your drama." -Ram Dass, spiritual teacher, psychologist, and writer
"As you walk and eat and travel, be where you are. Otherwise, you will miss most of your life." -Jack Kornfield, American Buddhist monk, teacher, and writer
"You can learn more in an hour of silence than you can in a year from books." -Matthew Kelly, The Rhythm of Life
"What your future holds for you depends on your state of consciousness now." -Eckhart Tolle, A New Earth
"Regardless of how we get there, either through meditation or more directly by paying attention to novelty and questioning assumptions, to be mindful is to be in the present, noticing all the wonders that we didn't realize were right in front of us." -Ellen Langer, Mindfulness
(1) A similar approach is the "54321 grounding method," in which we take deep breaths and become aware of our surroundings and then look for five things we can see, four things we can touch, three things we can hear, two things we can smell, and one thing we can taste.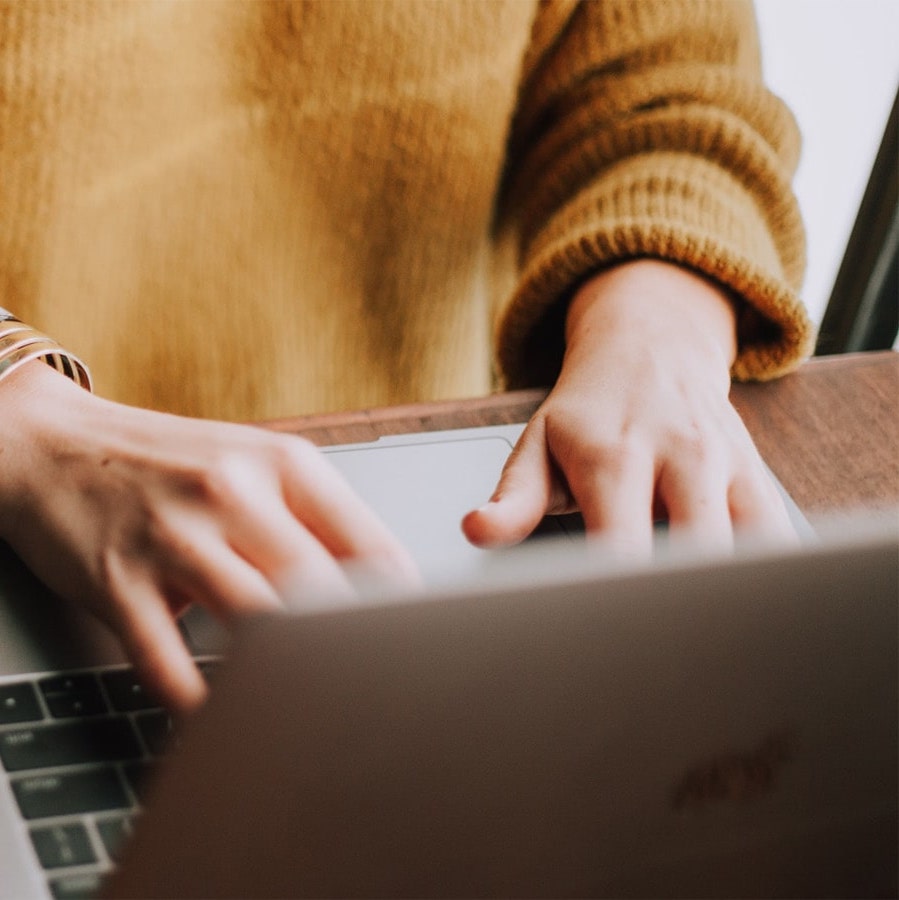 Gregg Vanourek's Newsletter
Join our community. Sign up now and get Gregg Vanourek's monthly inspirations (new articles, opportunities, and resources). Welcome!
++++++++++++++++++++++++++++++
Gregg Vanourek is a writer, teacher, TEDx speaker, and coach on leadership and personal development. He is co-author of three books, including LIFE Entrepreneurs: Ordinary People Creating Extraordinary Lives (a manifesto for integrating our life and work with purpose, passion, and contribution) and Triple Crown Leadership: Building Excellent, Ethical, and Enduring Organizations (a winner of the International Book Awards). Check out his Best Articles or get his monthly newsletter. If you found value in this article, please forward it to a friend. Every little bit helps!