Article Summary: 
One of the traps we can fall into in life is pretending to be someone or something we're not. This article addresses why we do it, its consequences, and how to stop doing it so much.
 +++ 
One of the traps we can fall into in life is pretending to be someone or something we're not. We may wear a mask for others, adopt a persona, or impersonate someone we think is more appealing.
There are many reasons why we do this. It's quite common.
But it can lead to big problems down the road.
Examples of Pretending in Action
What does it look like in practice? It can mean:
pretending to be like those around us so we can fit in
conforming to the expectations of others by pretending to be or like something
pretending we like our job when we don't
hiding our true selves because we're afraid of judgment or rejection by others
pretending to be someone we think our spouse or partner wants
hiding our mistakes or weaknesses and pretending to be perfect
faking something and deceiving someone to get what we want
wearing a mask as a coping mechanism for dealing with insecurity (including our propensity for negative self-talk and the "trance of unworthiness")
acting like we don't feel anger, resentment, hostility, sadness, or regret
feigning indifference to something that hurts us deeply
curating a perfect social media image
concealing our sadness or disappointment that we've given up on ourselves or our dreams
When we do these things, we have an innate, intuitive sense that we're treading in dangerous territory. We feel a disconnect or a guilty conscience.
We're all familiar with the sayings over the ages urging us to be authentic and true:
"To thine own self be true." -Shakespeare
"Be yourself; everyone else is already taken." -Oscar Wilde
"March to the beat of your own drummer."
"Know yourself, be yourself, love yourself."
Is it as simple as that? Perhaps not. There's some complexity here. For example, what is our "true self," exactly? Is it always knowable, coherent, and consistent? Might it change over time?
In their article, "The Enigma of Being Yourself," Katrina P. Jongman-Sereno and Mark R. Leary write: "the human personality invariably contains myriad personality dispositions, emotional tendencies, values, attitudes, beliefs, and motives that are often contradictory and incompatible even though they are genuine aspects of the person's psychological make-up…. People are genuinely multifaceted."
The poet Walt Whitman, writing long ago, seems to agree: "Very well," he wrote, "then I contradict myself. I am large, I contain multitudes."
Jongman-Sereno and Leary also note that our ability to adapt our behavior to meet the demands of different situations is, within limits, generally positive and important for our psychological wellbeing and social relationships. We're also asked to play a role sometimes—whether at home, at work, or in a community group—and that's okay.
But it's one thing to walk around making small accommodations to smooth things out a bit and another thing altogether to walk around wearing a mask and pretending to be something very different from what we are. When we do that, it has consequences.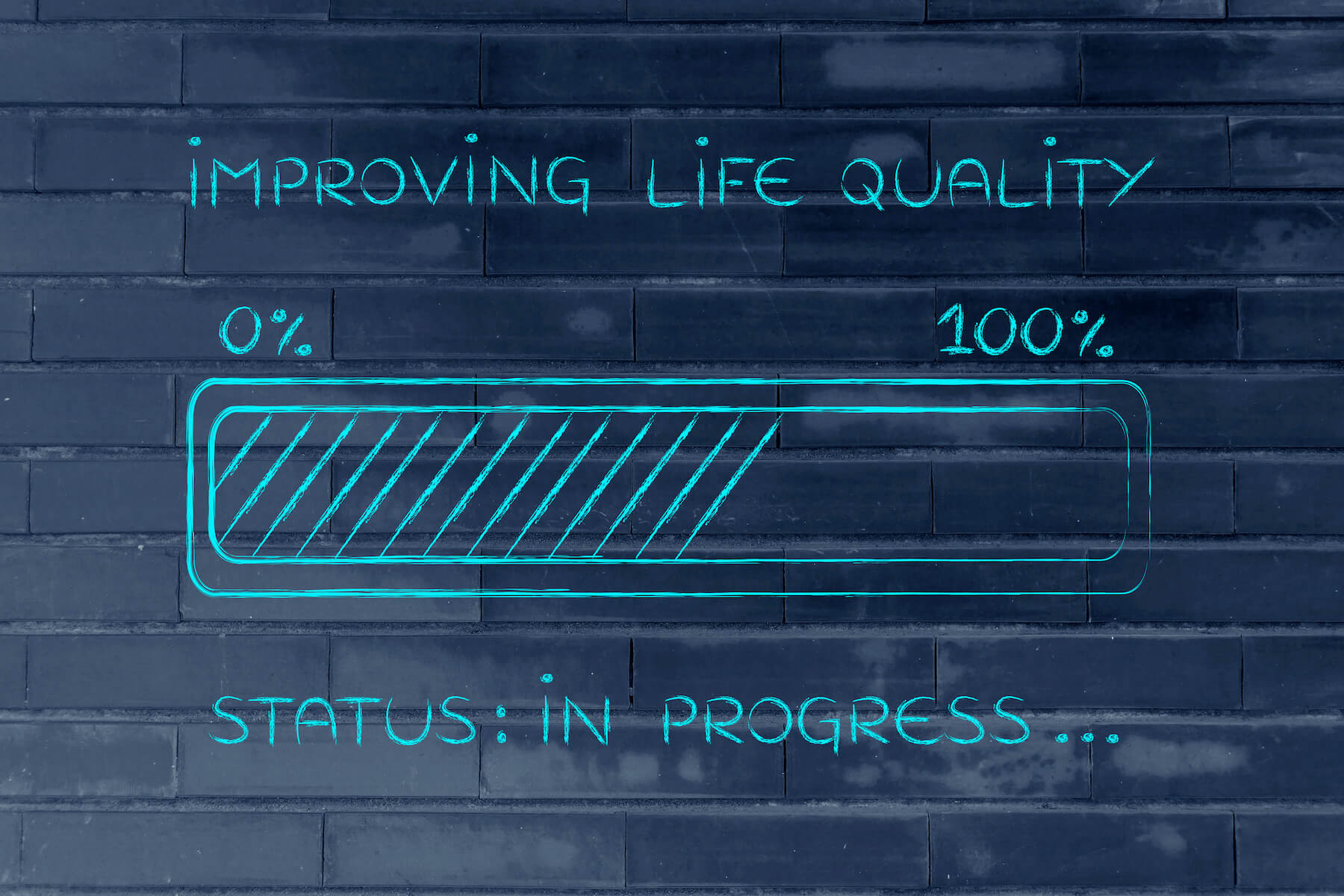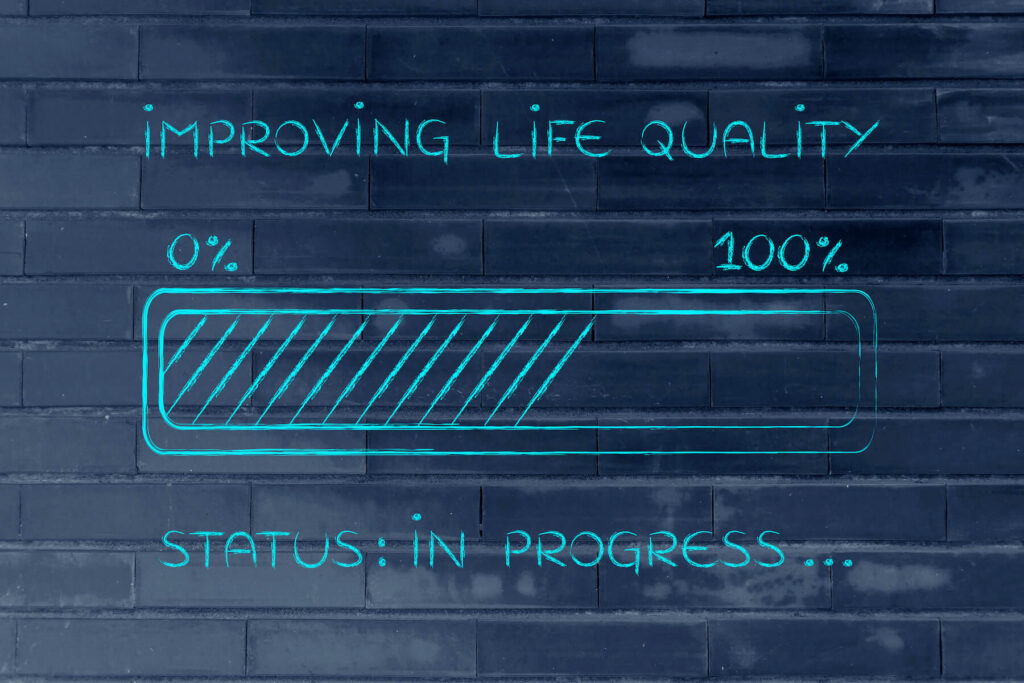 Quality of Life Assessment
Evaluate your quality of life in ten key areas by taking our assessment. Discover your strongest areas, and the areas that need work, then act accordingly.
The Consequences of Pretending
When we hide who we really are behind a mask and adopt a counterfeit persona, there can be a price to pay. It can result in:
putting barriers between us and the people who are important to us, including family, friends, and colleagues
forgetting who we truly are because we've been disguising ourselves to others for so long
feeling like we're a fraud (see also "impostor syndrome")
feeling exhausted from acting, pretending, and pleasing (which can all lead to lack of energy and motivation)
creating a sense of aloofness in which people get the sense that we're inaccessible
continuing a nefarious pattern of avoiding deeper issues and kicking the can further down the road
This can become a downward spiral, leading to even more insecurity and anxiety than what provoked us to wear a mask in the first place.
It's frustrating for people when they notice we're hiding parts of ourselves. Its puts a barrier between us.
Don't be fooled by me.
Don't be fooled by the face I wear for I wear a mask, I wear a thousand masks,
Masks that I'm afraid to take off, and none of them is me.
Pretending is an art that's second nature with me, but don't be fooled,
for God's sake don't be fooled.
Charles Finn in his poem, "Please Hear What I'm Not Saying"
Let's note here that it's not just difficult for the insecure people among us. This can be difficult for everyone, including leaders, entrepreneurs, celebrities, and high achievers. Sometimes, more so, due to all the pressures and expectations imposed on them.
"That age-old advice to 'be yourself' is deceptively simple. Being yourself is a lifetime's work of discovery and courage, stepping out from behind your fear of not being good enough." -Claire Law
How to Stop Pretending So Much
Being authentic and true can be difficult because, when we put down the mask and dare to be ourselves in front of others, we feel raw, exposed, naked, and vulnerable. We feel like we can die from disapproval, rejection, or belittling.
"I was dying inside. I was so possessed by trying to make you love me for my achievements that I was actually creating this identity that was disconnected from myself. I wanted people to love me for the hologram I created of myself." -Chip Conley, author, entrepreneur, and founder, Modern Elder Academy
But we don't die. We may suffer some adverse consequences, although usually our fears are way overblown. Overall, we tend to thrive when we lean in to being ourselves more fully, openly, and unapologetically.
How to go about it? Here are some of the things we can do to help us stop pretending so much:
know ourselves so well and deeply that we feel a sense of clarity and comfort about our true nature and begin to feel more comfortable in our own skin (a lifelong process)
accept our flaws (what about Brene Brown calls the "gifts of imperfection")
engage in systematic personal development to build on our strengths, interests, and aspirations and feel the joy of growth and progress
develop the courage to let some people go (e.g., people who are judgmental, controlling, or always worrying or negative)
notice that things usually turned out better than we expected when we were afraid of failure, judgment, or rejection
develop our confidence and truly believe that we're enough
remove our mask as much as possible in front of those we love the most, deepening connection and building our capacity to be real in front of others
dig down into the root causes that led us to want to avoid being ourselves
take an occasional break from the heavy responsibilities of being ourselves ("The energy required to maintain your identity is probably greater than you realize, and finding a way to relinquish it regularly can help you recharge." -David Brooks)
Yes, there are many things we can do, but that doesn't mean it's easy.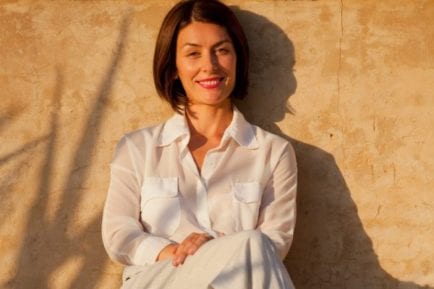 "Being true to who you really are can be one of the hardest things to do in life." -Carlii Lyon, Australian executive
The Benefits of Being Ourselves
When we start putting the mask down more often, we're doing two important things, according to researchers.
First, we're developing our self-acceptance—our acceptance of all our attributes, whether positive or negative.
Second, we're developing our authenticity—the degree to which our behavior is congruent with our attitudes, beliefs, and values. In her book, The Gifts of Imperfection, Brene Brown defines authenticity as "the daily practice of letting go of who we think we're supposed to be and embracing who we are." She notes that it requires audacity to be authentic.
What are the results of developing our self-acceptance and authenticity? There are many benefits, according to researchers, including:
improving wellbeing
feeling free
building confidence
developing better relationships
boosting work performance
protecting our mood in the face of setbacks
building our mental strength
cultivating a sense of peace
feeling less compulsive and anxious
lowering the barriers we've placed between ourselves and others
developing our capacity to distance ourselves from outside expectations and extrinsic motivations
avoiding one of the most common and difficult regrets—the regret of living our lives by the lights of others instead of by our own guiding lights
"Studies have even shown that feelings of authenticity can go hand in hand with numerous psychological and social benefits: higher self-esteem, greater well-being, better romantic relationships, and enhanced work performance." -Jennifer Beer, "The Inconvenient Truth about Your 'Authentic' Self," Scientific American, March 2020
Related Traps
Of course, the trap of pretending to be someone or something we're not doesn't exist in a vacuum. It's related to several of the other common traps of living, including: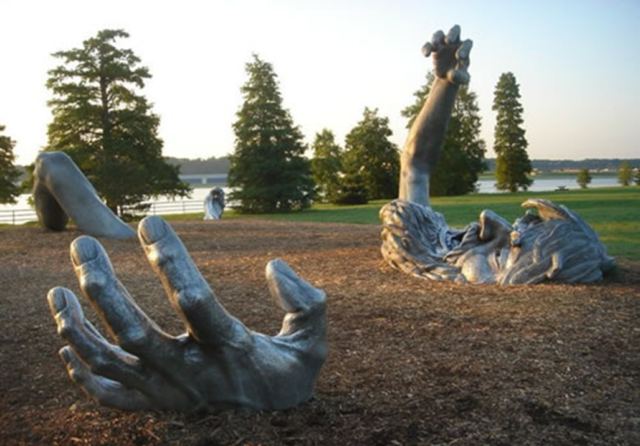 Take the Traps Test
We all fall into traps in life. Sometimes we're not even aware of it, and we can't get out of traps we don't know we're in. Evaluate yourself with our Traps Test.
Reflection Questions
Are you wearing a mask in front of others and pretending to be someone or something you're not?
What will you do, starting today, to lean in to being yourself more fully, openly, and unapologetically?
Tools for You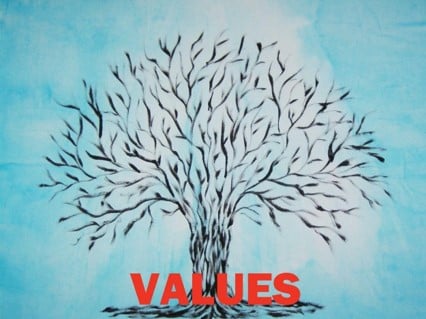 Personal Values Exercise
Complete this exercise to identify your personal values. It will help you develop self-awareness, including clarity about what's most important to you in life and work, and serve as a safe harbor for you to return to when things are tough.
Postscript: Inspirations on Authenticity
"To be nobody-but-yourself—in a world which is doing its best, night and day, to make you everybody else—means to fight the hardest battle which any human being can fight; and never stop fighting." -e.e. cummings
"…psychological suffering always comes from internal splits between what your encultured mind believes and what feels deeply true to you." -Martha Beck in The Way of Integrity
"Live with total integrity. Be transparent, honest, and authentic. Do not ever waiver from this; white lies and false smiles quickly snowball into a life lived out of alignment. It is better to be yourself and risk having people not like you than to suffer the stress and tension that comes from pretending to be someone you're not, or professing to like something that you don't. I promise you: Pretending will rob you of joy." -Dr. Christine Carter, sociologist (advice to her children)
"The ultimate goal in life is not to be successful or loved, but to become the truest expression of ourselves, to live into authentic selfhood, to honor our birthright gifts and callings, and be of service to humanity and our world… life is seen as a journey of personal and collective unfolding toward our true nature." -Frederic Laloux in Reinventing Organizations
"We are so accustomed to disguise ourselves to others, that in the end, we become disguised to ourselves." -Francois de La Rochefoucauld
"The thing that is really hard, and really amazing, is giving up on being perfect and beginning the work of becoming yourself." -Anna Quindlen
"Being true to the person you were created to be means accepting your faults as well as using your strengths. Accepting your shadow side is an essential part of being authentic. The problem comes when people are so eager to win the approval of others that they try to cover their shortcomings and sacrifice their authenticity to gain the respect and admiration of their associates…. Many leaders—men in particular—fear having their weaknesses and vulnerabilities exposed. So they create distance from employees and a sense of aloofness. Instead of being authentic, they are creating a persona for themselves." -Bill George, Authentic Leadership
"…the ultimate self-help strategy, the one practice that could end all your suffering and get you all the way to happiness. Stop lying." -Martha Beck in The Way of Integrity
"Now as adults, we realize that to live with courage, purpose, and connection—to be the person who we long to be—we must again be vulnerable. We must take off the armor, put down the weapons, show up, and let ourselves be seen." -Brene Brown in Daring Greatly
"Afraid that our inner light will be extinguished or our inner darkness exposed, we hide our true identities from each other. In the process, we become separated from our own souls. We end up living divided lives, so far removed from the truth we hold within that we cannot know the integrity that comes from being what you are." -Parker Palmer, A Hidden Wholeness: The Journey Toward and Undivided Life
"Our lives only improve when we are willing to take chances and the first and most difficult risk we can take is to be honest with ourselves." -Walter Anderson
"I write from my soul. This is the reason that critics don't hurt me, because it is me. If it was not me, if I was pretending to be someone else, then this could unbalance my world, but I know who I am." -Paolo Coelho, Brazilian novelist
"If you want to be successful, you must respect one rule—Never lie to yourself." -Paulo Coelho, Brazilian novelist
"Why fit in—when you were born to stand out?" -Dr. Seuss
Final Note: The Good Forms of Pretending
One final note. As we address the dangers of pretending to be someone or something we're not, we should be careful not to "throw the baby out with the bathwater," as the saying goes. Here are several forms of "pretending" that are quite different from that trap, and that have important benefits:
1. Self-Distancing
When we're "self-distancing," we're viewing our own experience from the perspective of an observer. According to the research, self-distancing can:
help us overcome difficult emotions and reduce stress and anxiety
help us reduce emotional reactivity
reduce our heart rate and blood pressure
help us see things more objectively and with greater perspective
promote wise reasoning about conflicts and how to approach them
foster humility, empathy, and open-mindedness
2. Alter Ego
Many people think about things from the perspective of a hero or mentor, even pretending that they've assumed that identity. Most of us can relate to this, starting from childhood. As a child, maybe we pretended to be Superman, Batman, Wonder Woman, or Dora the Explorer. If we wanted to be an entrepreneur, maybe we channeled Steve Jobs. If we wanted to be a media maven or overcome trauma, maybe Oprah Winfrey. If we're Christian, we may ask, "What would Jesus do?" And so on with different religions or influences.
3. Visualization
Many people, and most famously athletes, use visualization to boost performance. With visualization, we mentally pretend we're doing something, simulating it in our mind, forming a mental image of the things we want or the actions we need to take. This helps the brain form neural connections. It can be powerful, especially when it's followed by action, including extensive, deliberate practice.
4. Maskenfreihet
The German word, "maskenfreiheit," means "mask freedom" or "the freedom that comes from wearing masks." Many people enjoy going to a masquerade or a costume party, with not only the creativity and fun but also the release from being ourselves.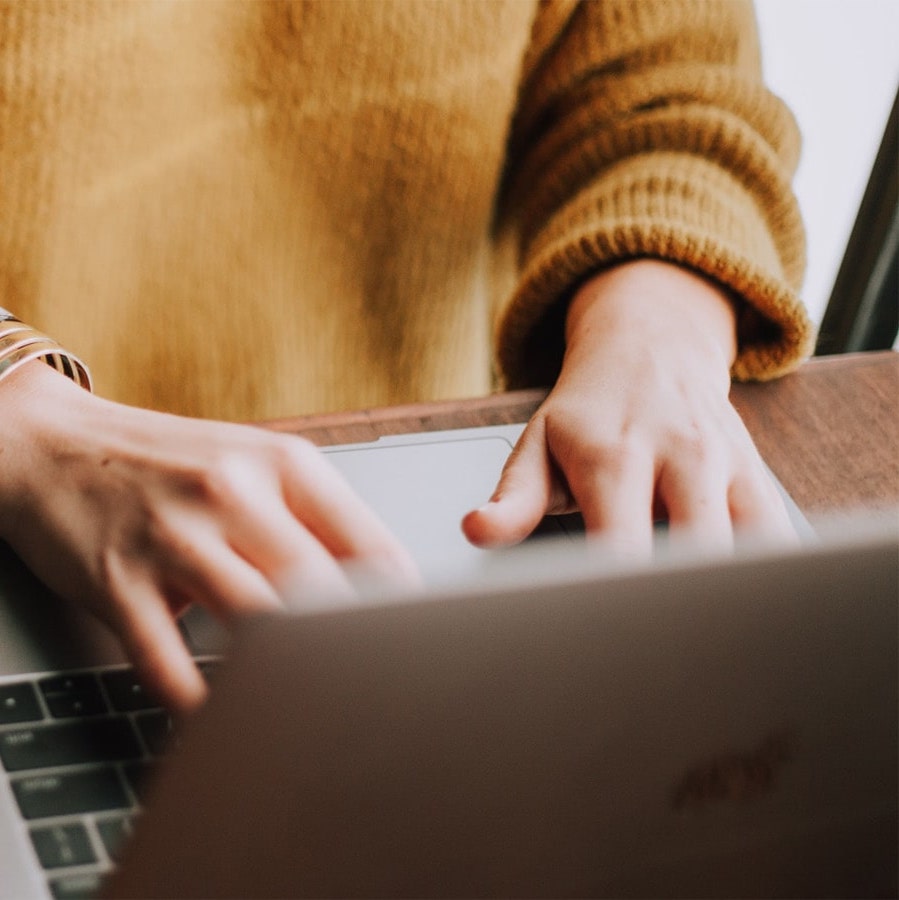 Gregg Vanourek's Newsletter
Join our community. Sign up now and get Gregg Vanourek's monthly inspirations (new articles, opportunities, and resources). Welcome!
+++++++++++++++++
Gregg Vanourek is a writer, teacher, TEDx speaker, and coach on personal growth and leadership development. He is co-author of three books, including LIFE Entrepreneurs: Ordinary People Creating Extraordinary Lives (a manifesto for integrating our life and work with purpose, passion, and contribution) and Triple Crown Leadership: Building Excellent, Ethical, and Enduring Organizations (a winner of the International Book Awards). Take Gregg's Traps Test (Common Traps of Living), complete his Personal Values Exercise, check out his Best Articles, or get his newsletter. If you found value in this article, please forward it to a friend. Every little bit helps!