Many of us are walking around in a "trance of unworthiness." It's a gnawing feeling that we're deeply flawed. It tells us we're not worthy of love, happiness, success, or approval. And it follows us around like a shadow.
When I first encountered this provocative term from psychologist and author Tara Brach, it felt like a revelation to me, because I've seen it in so many of my colleagues, clients, and students. And because I've felt it at times too. Brach describes it as "fear or shame—a feeling of being flawed, unacceptable, not enough. Who I am is not okay."
"Who I am is not okay."
Brach tells the story of a dying mother sharing a searing secret with her daughter:
"You know, all my life I thought something was wrong with me. What a waste." -a dying mother, told to her daughter (from Radical Acceptance)
The Sources of Low Self-Worth
Feelings of low self-worth (unworthiness) are surprisingly common—and quite destructive. Where do they come from?
According to the research, the sources of low self-worth include the following:
Disapproving or overly critical parents or other authority figures (like teachers or coaches), often accompanied by intense pressure for achievement
Uninvolved, distant, or preoccupied parents or other caregivers
Frequent comparisons to siblings during childhood, leading to feelings of inferiority
Excessive praise by parents for performance or abilities (vs. effort and process)
Too much unhealthy conflict in the home (note: many children absorb those negative emotions and attribute the conflicts to their own faults or failures)
Childhood experiences with taunting, bullying, or ostracism
Overprotective parents, leaving children unprepared for challenges
School setbacks or failures, leading children to feel flawed or stupid
Societal expectations and pressures, including unrealistic portrayals of life and beauty from social media
Trauma and abuse
"Why do we hold on so tightly to our belief in our own deficiency? Why are we so loyal to our suffering, so addicted to our self-judgment?" -Tara Brach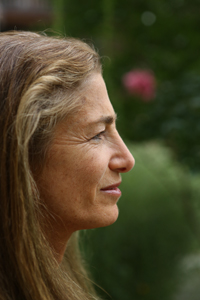 Clearly, there are many triggers of the trance. Next, we need to know the consequences of the trance of unworthiness. How does it affect our lives, and what can we do about it?
The Consequences of Low Self-Worth
The effects of low self-worth can range from mild to devastating, potentially including:
Unhappiness
Stress
Anxiety
Emotional distress
Lowered resilience in the face of adversity
Substance abuse
Separation from others—a lack of deep connection with people you care about
Lower salaries, in part due to a lower inclination to negotiate for better compensation
Stifling your potential for growth
Preventing you from pursuing new opportunities, including lower rates of entrepreneurship
Suicide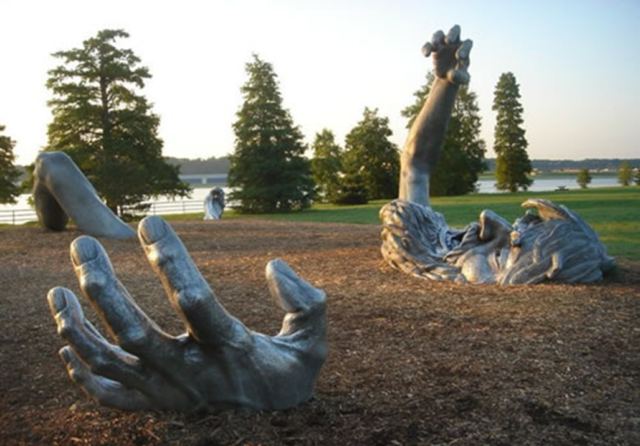 Take the Traps Test
We all fall into traps in life. Sometimes we're not even aware of it, and we can't get out of traps we don't know we're in. Evaluate yourself with our Traps Test.
The Signs of the Unworthiness Trance
How can we know if we're susceptible to the trance of unworthiness? Here are some common signs:
Recurring feeling that something's wrong with you, including what Brach calls "the habit of feeling insufficient"
Overly active inner critic and negative self talk
Numbing behaviors, including addictions (to food, work, alcohol, drugs, etc.)
Perpetual busyness

, constant multitasking, and frenzied action

Preoccupation with achievement

, obsession with success, or status addiction

Avoidance of vulnerability and self-disclosure
Chronic sense of "shame" ("the intensely painful feeling or experience of believing that we are flawed and therefore unworthy of love and belonging," as defined by Brene Brown

)

A "divided life" ("a life in which our words and actions conceal or even contradict truths we hold dear inwardly," as described by author and educator Parker Palmer from the Center for Courage and Renewal)
Restless and perpetual pursuit of self-improvement, fueled by angst of feeling not good enough
Badgering yourself for mistakes you've made
Excessive fault-finding in others, to distract from your own pain or flaws
Excessive sensitivity to criticism, even when it's constructive
Difficulty accepting positive feedback
Playing it safe to avoid risk or failure
Reluctance to ask for what you want or need, and to accept help
Self-hatred
When we're under this trance, we walk around wondering the following:
What's wrong with me?
This leads to a related concept: "impostor syndrome."
Impostor Syndrome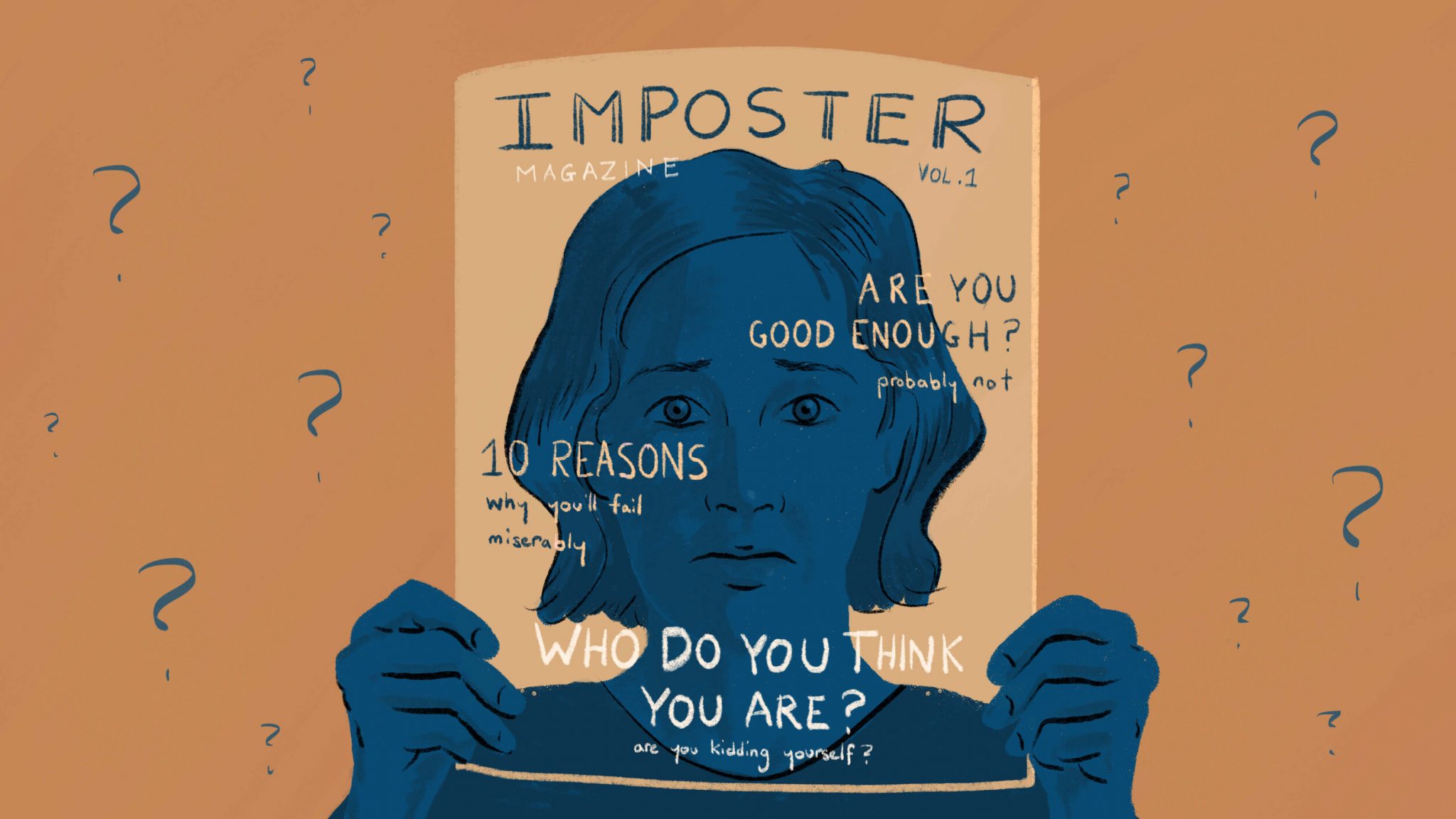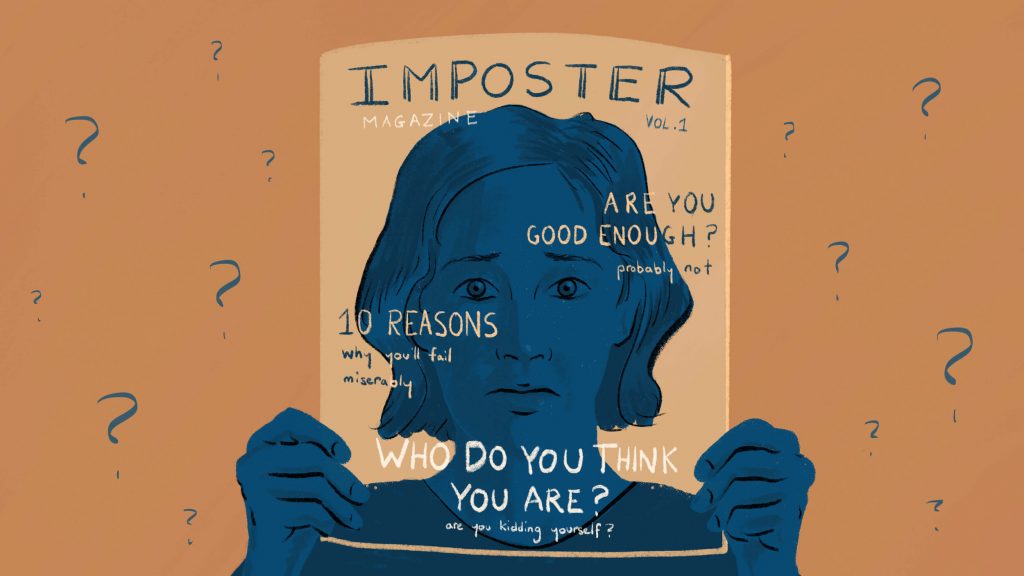 In 1978, researchers Pauline Clance and Suzanne Imes identified a phenomenon called "impostor syndrome" (also called "perceived fraudulence"). It "involves feelings of self-doubt and personal incompetence that persist despite one's education, experience, and accomplishments."
Impostor syndrome is a belief that you're undeserving of your achievements or the esteem you may have. You feel like a fraud who's about to be revealed. You feel like a phony—and that you don't belong where you are.
Impostor syndrome is common. Researchers estimate that about 70 percent of adults may experience it at least once during their lives, and they note that it's more common among women—and specifically women of color—but also relevant to men.
According to Dr. Valerie Young, a researcher who studies impostor syndrome, there are five types of impostors:
The perfectionist: feeling a need to be (or appear) perfect
The natural genius: feeling embarrassed if something doesn't come easily to you, arising from a belief that competent people can handle anything easily
The rugged individualist or soloist: feeling that you should be able to handle everything on your own and that, if you can't, it's a sign of a deep flaw
The expert: feeling like a failure when you don't know the answer or how to do something
The superhero: feeling that you need to be able to succeed across all domains in your life and work
These feelings are clearly self-defeating. We need to get better at crafting mental narratives that are positive and productive, as opposed to the negative and destructive scripts that have hijacked our brains. Enter the work of Shirzad Chamine on what he calls "positive intelligence."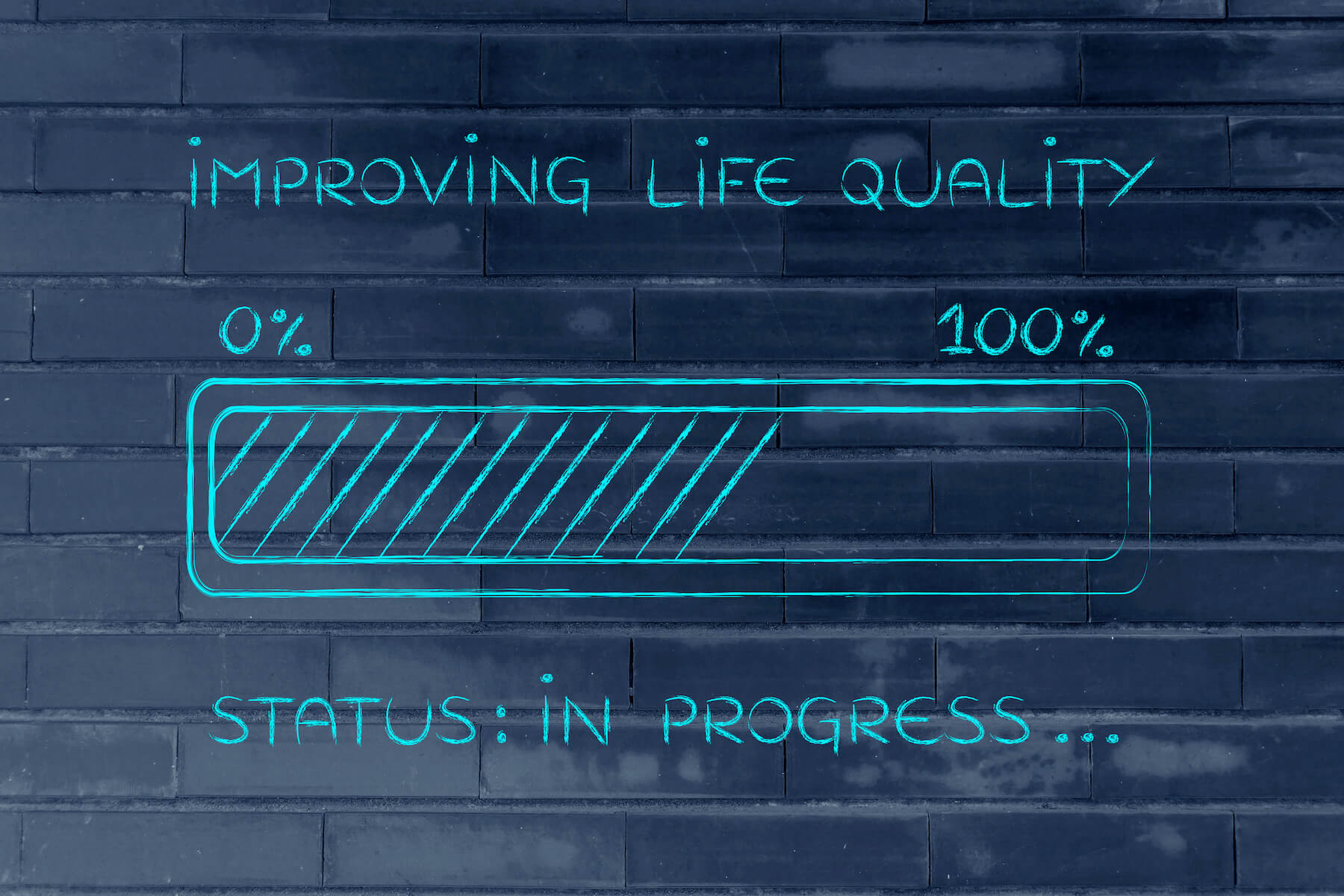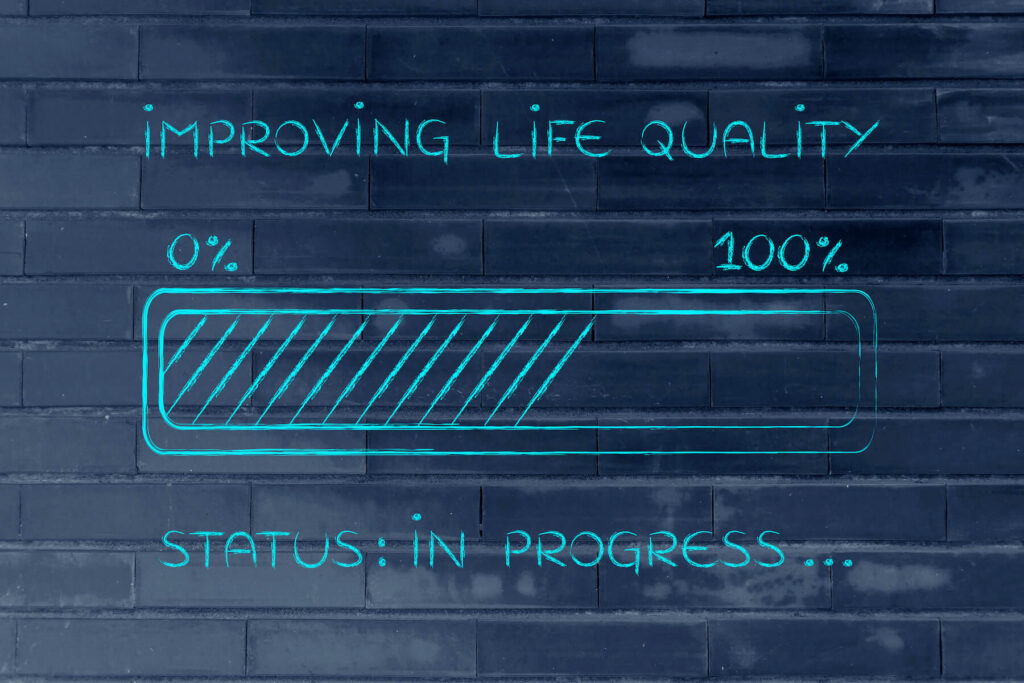 Quality of Life Assessment
Evaluate your quality of life in ten key areas by taking our assessment. Discover your strongest areas, and the areas that need work, then act accordingly.
"Positive Intelligence"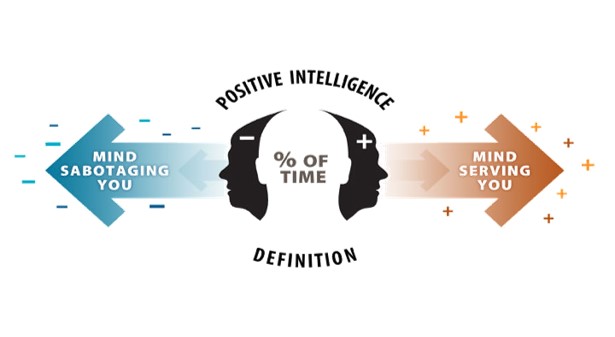 Chamine notes how we're sabotaging ourselves with our thoughts.
"Most people today live in relatively constant distress and anxiety. This is related to a low-grade but perpetual fight-or-flight response… in reaction to the challenges of life, both personal and professional." -Shirzad Chamine, Positive Intelligence
Chamine identified nine "saboteurs," which are "automatic and habitual mind patterns" that limit our ability to function effectively. The "master saboteur," as he calls it, is the "Judge": finding fault with self, others, or circumstances. The Judge sabotages us all, he says.
Other relevant saboteurs include the "Pleaser" (flattering, rescuing, or pleasing others to gain acceptance) and the "Hyper-achiever" (depending on achievement for self-acceptance).
What to Do About It
Given how common and destructive these phenomena (including the trance of unworthiness, impostor syndrome, and our mental saboteurs) are, what can we do to flip the script and fill our heads with more forgiving and productive narratives?
Much, it turns out. Here are nine techniques for changing our mental narrative:
The "audacity of authenticity" (described by Brown as "letting go of who we think we're supposed to be and embracing who we are" and "cultivating the courage to be imperfect, to set boundaries, and to allow ourselves to be vulnerable").
Avoiding the comparison trap, our destructive tendency to compare ourselves to others and judge our worth by how we stack up on superficial metrics
"Radical acceptance" (described by Brach as "clearly recognizing what we are feeling in the present moment and regarding that experience with compassion"). Brach notes that it's "the gateway to healing wounds and spiritual transformation. When we can meet our experience with Radical Acceptance, we discover the wholeness, wisdom, and love that are our deepest nature."
Viewing imperfections as gifts, because they connect us more deeply, as Brene Brown notes. People don't feel deep connections with robots and superheroes. Rather, they form bonds with people when they discover shared humanity and risk vulnerability together.
Challenging our self-doubts and examining the sources of our feelings of unworthiness, recognizing that they're common and often induced by childhood or other life experiences. We're not alone in having such thoughts but we must learn to interrogate them.
Forgiving ourselves and healing our wounds. ("We have to face the pain we have been running from. In fact, we need to learn to rest in it and let its searing power transform us." -Charlotte Joko Beck)
Cultivating contentment,

gratitude

, and joy. Having a gratitude practice can increase our sense of wellbeing. We can savor what we have, enjoy the little things in life (which often turn out to be the big things, as the saying goes), and find pockets of joy both in the everyday and not just the sublime.
Meditation and mindfulness, including the practice of observing and labeling negative self-judgments when they arise—and then letting them go.
Giving ourselves grace, acknowledging that nobody's perfect and that the point of life is not to try to appear perfect or successful to others. Sometimes it's good enough to know that we're still here and willing to try another day.
The trance of unworthiness is insidious. Its presence in our lives can go unnoticed for years, or even decades, because it operates subconsciously. Its negative effects, while gradual, can accumulate mightily over time, compounding into a mental black hole. It's time to break the trance.
Reflection Questions
To what extent have you and your loved ones fallen into the trance of unworthiness?
What do you think are the root causes?
Which of the techniques above will you try (or have you tried)?
Are you doing enough to stop self-sabotaging and start a more productive mental script?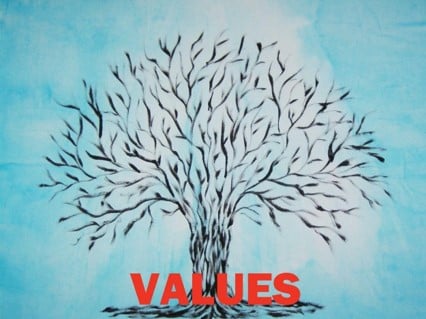 Personal Values Exercise
Complete this exercise to identify your personal values. It will help you develop self-awareness, including clarity about what's most important to you in life and work, and serve as a safe harbor for you to return to when things are tough.
Tools for You
Related Articles
 Postscript: Quotations
"Remember, you have been criticizing yourself for years, and it hasn't worked. Try approving of yourself and see what happens." -Louise L. Hay
"Low self-esteem is like driving through life with your hand-brake on." -Maxwell Maltz
"Most bad behavior comes from insecurity." -Debra Winger
"Self-care is never a selfish act—it is simply good stewardship of the only gift I have, the gift I was put on earth to offer to others." -Parker Palmer
"Love yourself first and everything else falls into line. You really have to love yourself to get anything done in this world." -Lucille Ball
"Our doubts are traitors, and make us lose the good we oft might win, by fearing to attempt." -William Shakespeare, "Measure for Measure"
"Doubt kills more dreams than failure ever will." -Suzy Kassem
"You are imperfect, permanently and inevitably flawed. And you are beautiful." -Amy Bloom
"The worst loneliness is to not be comfortable with yourself." -Mark Twain
"I am not what has happened to me. I am what I choose to become." -Carl Jung
"All you need is already within you, only you must approach your self with reverence and love. Self-condemnation and self-distrust are grievous errors." -Nisargadatta Maharaj
"The thing that is really hard, and really amazing, is giving up on being perfect and beginning the work of becoming yourself." -Anna Quindlen
"When we were children, we used to think that when we were grown up we would no longer be vulnerable. But to grow up is to accept vulnerability… To be alive is to be vulnerable." -Madeleine L'Engle
"Wholehearted living is about engaging with our lives from a place of worthiness. It means cultivating the courage, compassion, and connection to wake up in the morning and think, 'No matter what gets done and how much is left undone, I am enough.' It's going to bed at night thinking, 'Yes, I am imperfect and vulnerable and sometimes afraid, but that doesn't change the truth that I am also brave and worthy of love and belonging." -Brené Brown, The Gifts of Imperfection
Recommended Books and Videos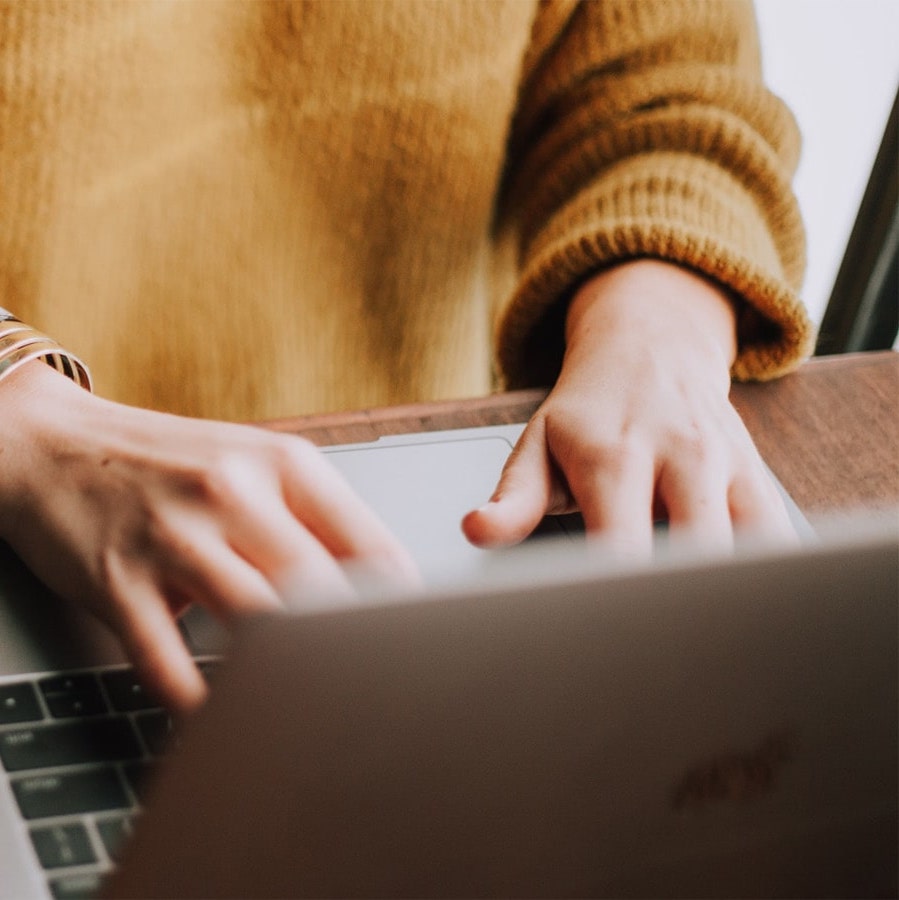 Gregg Vanourek's Newsletter
Join our community. Sign up now and get Gregg Vanourek's monthly inspirations (new articles, opportunities, and resources). Welcome!
++++++++++++++++++++++++++++++
Gregg Vanourek is a writer, teacher, TEDx speaker, and coach on leadership and personal development. He is co-author of three books, including LIFE Entrepreneurs: Ordinary People Creating Extraordinary Lives (a manifesto for integrating our life and work with purpose, passion, and contribution) and Triple Crown Leadership: Building Excellent, Ethical, and Enduring Organizations (a winner of the International Book Awards). Check out his Best Articles or get his monthly newsletter. If you found value in this article, please forward it to a friend. Every little bit helps!